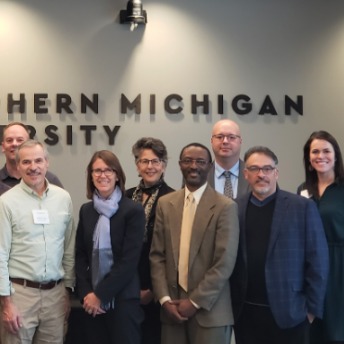 Executives from five Michigan companies have graduated from ExporTech Upper Peninsula, the Michigan Economic Development Corporation (MEDC) announced today.
"ExporTech provides an excellent opportunity for companies to sharpen their strategic export plans under the guidance of seasoned experts," said MEDC Vice President of International Trade and Pure Michigan Business Connect, Natalie Chmiko. "These graduates help drive Michigan's economic growth by supporting highly skilled manufacturing jobs through increased export revenue."
Developed by the U.S. Department of Commerce, ExporTech is a national program that helps U.S. manufacturers and service-based companies develop their international growth strategies. ExporTech UP was organized by the U.S. Commercial Service, Saginaw Valley State University and MEDC.
ExporTech features three day-long workshops spanning 10-12 weeks. Training and individualized mentoring is provided from a wide range of experts on export financing, payment risk, compliance, sales and distribution, country selection and more. Featured speakers included East & West Michigan District Export Council members, EXIM Bank, the U.S. Small Business Administration, FedEx and Foster Swift Collins & Smith PC. Teams of students were assigned to each company to assist in market research.
"The US Department of Commerce, US Commercial Service-Michigan is proud to offer the national ExporTech program in strong collaboration with the MEDC, the East and West Michigan District Export Councils, local universities, EXIM Bank, SBA and other key partners," said Eve Lerman, senior international trade specialist with the U.S. Department of Commerce, U.S. Commercial Service. "First launched in Michigan in 2010, we recently expanded from offering ExporTech an average of once a year to offering four programs a year in four distinct regions of the state, making ExporTech accessible to companies irrespective of their geographic location. By bringing key resources to Michigan companies, helping them learn critical skills and coaching them to develop strategic plans to build export sales, we are creating an ecosystem targeting increased export sales, new jobs and greater economic prosperity."
Today's graduates bring the total number of companies graduating from ExporTech in Michigan to 45 since the program was first launched in 2010. Companies have participated in nine separate programs organized in Detroit, Troy, Plymouth, Lansing and Saginaw.
The five companies that successfully completed ExporTech Upper Peninsula were:
Great Lakes Sound & Vibration, Inc. (Houghton) – Engineers solutions to acoustic, shock and vibration problems. Capabilities include design, analysis, experimental, prototype and low-volume manufacturing.
Hiawatha Log Homes (Wetmore) – Designs and manufacturers log homes and furniture from structurally-graded Northern White Cedar and Northern Red Pine logs.
Pettibone (Baraga) – Manufactures material handling equipment to maximize productivity on a multitude of material handling applications, from construction and masonry to supply yards and utilities.
Race Ramps, LLC (Escanaba) – Manufactures patented lightweight car ramp solutions for storage, service, transport and display.
REL, Inc. (Laurium) – Manufactures reliable, exact and logical equipment with a specialization in process equipment for non-destructive testing (Intelligent Fluorescent Penetrant Inspection).
"One of the great things coming out of this program is that it helped us to think more strategically about our sales plans. It motivated us to focus on specific markets of opportunity based on research and counselling provided by the program mentors," said Dr. John's Healthy Sweets President and previous ExporTech graduate, Mike McDonald.
Michigan's State Trade Expansion Program (STEP), funded through a grant from the U.S. Small Business Administration and administered by MEDC's International Trade Program, reimburses 50% of the cost of ExporTech to participating companies. In addition, participating ExporTech companies are eligible to apply to FedEx for export grants and can utilize services offered by a network of federal and state agencies to take the export strategies developed during ExporTech to the next level.
Two new ExporTech programs are being launched in January and February 2020, in greater Detroit and Lansing. Information on the Detroit program can be found here and information on the Lansing program can be found here . For questions, please contact your International Trade Manager.
For general information on exporting companies can go to www.export.gov or www.exportmi.net. To apply for assistance, including MEDC's STEP grants, visit www.michiganbusiness.org/export.