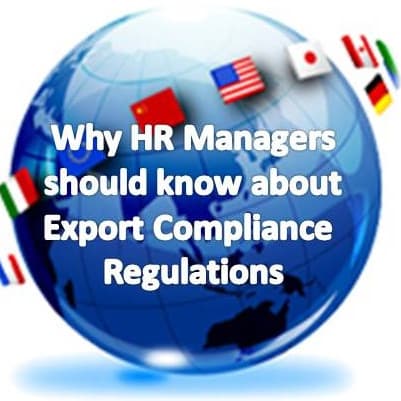 By: Terrence Kalley
You have to be scratching your head: what do export controls have to do with the activities of HR department? The answer is a lot more than you think. A lack of knowledge in this area can end up being costly for your employer and possibly also your career.
How costly: Try maximum penalties of 20 years in prison, $1 million in fines per violation and the loss of export privileges for your employer if you violate certain Export Control regulations. Serious business! You bet.
But what is this all about? It has to do with employing or using as interns foreign nationals or allowing these foreign nationals to interact with your employees. Any foreign national is subject to what is termed the "deemed export" rule except a foreign national who (1) is granted permanent residence, as demonstrated by the issuance of a permanent resident visa (i.e., "Green Card"); or (2) is granted U.S. citizenship; or (3) is granted status as a "protected person" under a special classification.
You may think that an export occurs when a good or service is sold by a U.S. company across a border to a foreign country. While such a definition is accurate, it is also woefully inadequate.
Under the Export Administration Regulations of the U.S. Bureau of Industry and Security, an export of technology or source code (except encryption source code) is "deemed" to take place when it is released to a foreign national within the United States. Note that this deemed export occurs within the borders of the U.S.
Furthermore, technology is "released" for export when it is available to foreign nationals for visual inspection (such as reading technical specifications, plans, blueprints, etc.), when technology is exchanged orally, or when technology is made available by practice or application under the guidance of persons with knowledge of the technology. Note that there is no need for a sale to occur for the export to be released. Just by discussing certain technology with a foreign national such as a co-worker or a foreign guest, exports can be released. Similarly, showing a foreign customer a blueprint or taking them on a tour of your advanced manufacturing facility may constitute a release of technology.
"Technology" is specific information necessary for the "development," "production," or "use" of a product. This broad definition covers a product life cycle from research and development, though the equipment and manufacturing know how, technical specifications, etc., required to manufacture it as well as the training materials for users of the product. That's why you need to make sure that your personnel are informed of these regulations not only in sales and marketing but also R&D and manufacturing, to name just a few functional areas that you might have in your organization.
U.S. entities must apply for an export license under the "deemed export" rule when both of the following conditions are met: (1) they intend to transfer controlled technologies to foreign nationals in the United States, and (2) transfer of the same technology to the foreign national's home country would require an export license, and assuming that a license is required because the technology does not qualify for treatment under EAR99 (the No License Required designation) and no license exception is available.
So what do you do if you want to hire a person but cannot ask them about their citizenship and country of origin due the Equal Employment Opportunities Commission (EEOC) rules? The information that the BIS normally requests derives from a bio or resume or from company background checks. The information that BIS may request as part of the license application process is requested in order to determine whether BIS should authorize the release of such controlled sensitive technology. The hiring of foreign nationals is not prohibited or regulated by the Export Administration Regulations (EAR). The EAR does not regulate employment matters. The justification for the "deemed export" rule is that there is no more effective way of disclosing sensitive technical information (e.g., design know-how) than to work side-by-side in a laboratory or on the production floor of a company. This puts you in a bind as it's not always easy to satisfy one set of regulations while abiding by a second set.
To complicate matters, the U.S. Citizenship and Immigration Services (USCIS) added two new certification requirements to Form I-129 regarding H-1B, H-1B1, L and O-1A visa applications, effective February 20, 2011. Part 6 of Form I-129 requires a petitioning employer to certify that it has reviewed the federal regulations related to the release of controlled technology or technical data and determined whether a license is required to release such technology or data to the foreign applicant.
By now you've probably figured out that you had better receive some legal counsel on this matter or receive training on these Export Controls.