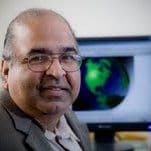 Member
Oakland University School of Business Administration
Ravi Parameswaran is a tenured Professor of Marketing in the Management and Marketing Department at the School of Business Administration, Oakland University, Rochester, MI. He holds a Bachelor of Science degree with a major in Physics (Minor: Mathematics), a Master's degree in International Management, a Master's degree in Business Information Systems, and a Ph.D. in Marketing.

He has done extensive academic research in international business and international marketing (specializing in country of origin studies), in marketing measurements and research, and buyer-supplier relationships. He is widely published in journals such as Journal of Marketing Research, Journal of the Academy of Marketing Science, Journal of Advertising, Journal of International Business Studies, International Marketing Review, Journal of Business and Industrial Marketing, International Journal of Quality and Reliability Management, Allied Journal of Business Research, Global Finance Journal, Journal of International Information Management, and Journal of Marketing Education among other publications.

His current research interests (including the ones mentioned above) include sustainability issues, emerging markets and global inter-disciplinary synergies.

Prior to his academic career at Oakland University, Dr. Parameswaran also has wide industry experience. He has served at Ford Motor Company in its Marketing Research Staff, Carson Roberts (subsidiary of Ogilvy and Mather Advertising), Focus Advertising, India and Richardson Merrell (now a part of Procter and Gamble), India. Dr. Parameswaran has also taught at University of Michigan Dearborn, Indiana University, Bloomington (on a sabbatical), Wayne State University, Detroit and Georgia State University, Atlanta (as a Ph.D. student).

Dr. Parameswaran has been an active member of the EMDEC since 2007 and has attended the national DEC conferences in Washington DC, Detroit and Las Vegas.

---
Articles Authored: