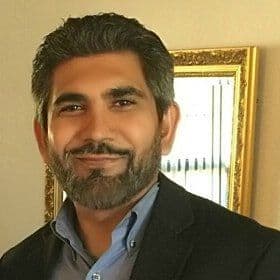 Member
Epic Translations
Mostansar Virk is the founder and CEO of EPIC Translations where he passionately supports international brands to increase global market share by providing turnkey and quality focused document translation and website / software localization services. Prior to EPIC Translations, he was Global Project Coordinator at HP Enterprise assisting GM in implementing their synchronized global engineering software platform.

Mostansar frequently advises clients on expanding to international markets and is a published author in the World Trade Magazine. The article covers expanding to BRIC (Brazil, Russia, India and China) and the first steps to take and lessons learned when exporting to a BRIC country. Last but not least, Mostansar is as a recipient of "Entrepreneurs of Distinction" award from Corp! magazine.

One of his first innovations at EPIC Translations was to develop a proprietary project management system that made managing global project details and personnel easy and efficient, called the EPIC Provisioning System (EPS).

EPS and other innovations spearheaded by Mostansar allow EPIC Translations' clients to become more efficient and automated in their acquisition of document translation needs. Businesses that have a relationship with EPIC Translations have generally experienced an improved time to market in the competitive global marketplace as well as an overall increase in global market share.

In the last two years, EPIC Translations has experienced a 250% growth, due in part to the excellent operations infrastructure conceived and built by Mostansar.

Today, EPIC Translations has over 20,000 linguists around the world and supports translation and localization services in 180 languages to a range of industries, including automotive, manufacturing, engineering, legal, healthcare, finance, and information technology.

Mostansar has previously served on the board of a community non-profit organization in the Detroit metro area and had organized one of the largest food festivals in Southeast Michigan in 2014 and 2015 where more than 50 varieties of food were available for more than 5,000 people that came to experience the food, fun, and folks!

Mostansar understands the value of mentoring students, recent graduates, and budding entrepreneurs as well. He implemented an internship program at EPIC Translations and also served on the panel of judges for business plan for competition for the TIE conference. It involved reviewing seven business plans, listening to the entrepreneurs on the stage and then selecting a winner who would receive up to $25K in awards and in-kind services. Mostansar is a member of German American Chamber of Commerce and French American Chamber of Commerce.